Overview
The Skywatcher Evostar 72ED DS Pro refractor is an apochromatic doublet, which is an ideal scope for an entry into astrophotography as its wide field of view is more forgiving than bigger refractors. Below is my full review and real world experience using this telescope from my back garden here in the UK.
I bought this scope in June 2019 after doing lots of research into imaging equipment. The 72ED seemed to fit my needs perfectly as I could use it with my Sky-Watcher Star Adventurer without putting too much weight on the mount, and also use it on my HEQ5 with ease. It also comes in at a reasonable price against its competitors, at less than £300 it's a lot of bang for your buck.
Specs:
Diameter: 72mm
Focal length: 420mm
F-Ratio: F/5.8
Multi-coated objective lens
Weight: 1.95KG
Sky-Watcher Evostar 72ED DS-Pro In the box
Aluminium carry case – The Skywatcher Evostar 72ED DS Pro refractor comes with a sturdy aluminium carry case. Ideal for transporting your telescope to a star party or storing at home without the risk of dew building up inside of the OTA. Inside the carry case are lots of cut-outs, which is really handy for storing your filters, eyepieces, star diagonals and cables.
The OTA – The 72ED does not come with any eyepieces or accessories out of the box, which is ideal if you already have these things for other set ups, or if you're purely using this scope for imaging as it brings the price down. For imaging you will need to buy the 0.85x field flattener/reducer designed for the 72ED, along with an M48 adapter to attach your DSLR. This is essential to give the correct spacing to be able to achieve focus for imaging.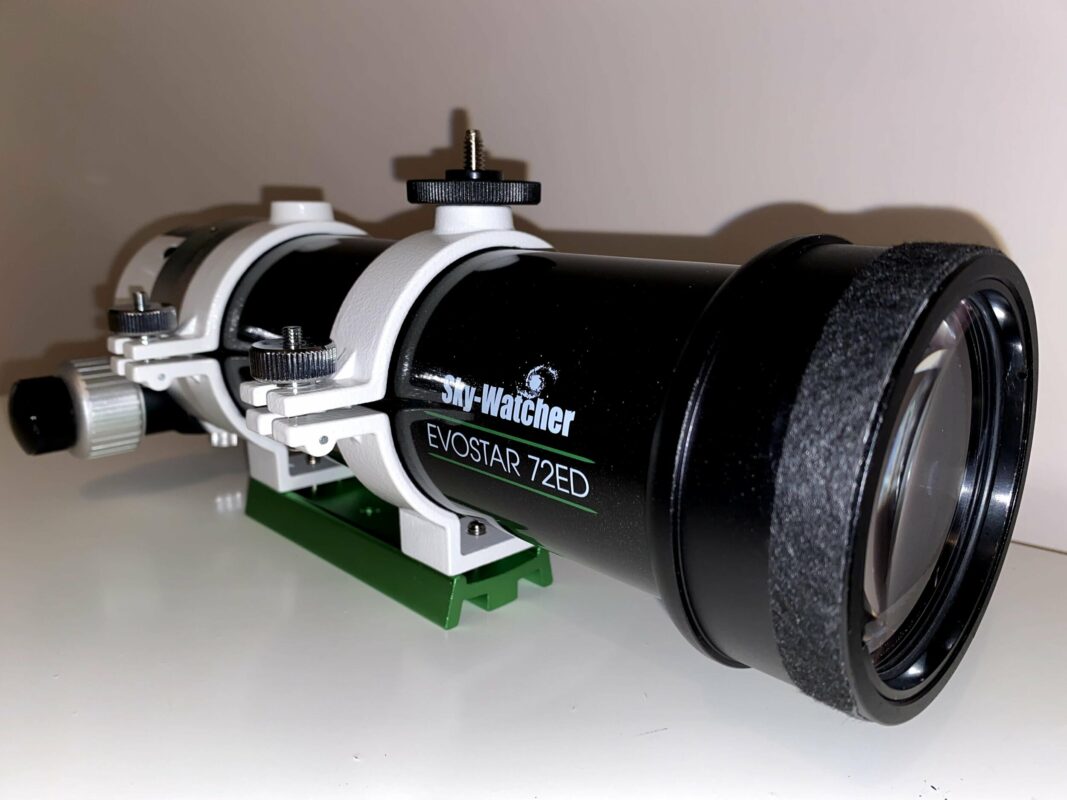 In-Depth Look
Sky-Watcher have not given away the true specification of the optics for the 72ED. However, we do know that the objective lens glass combination is different to its bigger siblings in the Evostar range, which all use FPL-53 glass.
At 420mm focal length, the 72ED will provide a nice wide field of view with crisp, round stars with little vignetting and a nice flat field. See my Gallery page for example images taken with the 72ED mounted on my Star Adventurer and HEQ5.
The 2-inch focuser has 38mm of travel in a rack and pinion design with tension adjustment. This allows DSLR or CMOS cameras to be attached and locked in place without the risk of the focuser slipping during imaging.
The dew shield is removable and comes complete with a screw cap, rather than a slip on which I find can easily come off. The removable dew shield allows for easy lens cleaning. The inside of the dew shield is coated matt black to prevent unwanted light reflections on your images.
Using The 72ED for Astrophotography
As I indicated above, the 72ED is a perfect scope for astrophotography. Its small size and light weight make it the perfect grab-and-
go scope for any occasion. However, you will need some additional equipment before you can use the 72ED for imaging.
The 0.85x reducer/flattener to provide a flat field across your image and enable imaging at F/4.93. This is a bespoke adapter made specifically for the 72ED, the other reducer/flatteners for Sky-Watcher refractors will not fit this scope. You can however, purchase the OVL field flattener, which is cheaper if your budget is tight. I personally use the former and achieve fantastic results.
An adapter for your camera such as the M48 DSLR Canon fit. This adapter will connect to the flattener on one end, and your camera on the other end.
These two items are essential to give you the required spacing to achieve focus for imaging.